Well here it is. The latest diet fad. A few years ago it was no carbs or low carbs. And even a lot longer before people called it low or no carb diets it was called ketogenic diets.
I've done em. I hate em. Every second of em. I did a keto a few years ago for about 6 weeks. I felt like shit the entire time, I got skinny-fat, my lifts went straight into the shitter, I had zero energy for fighting. The so called rebound never happened. I never felt good again, and the theory that you can eat as much as you want on these diets and not get fatter is complete HORSESHIT.
Pretty much, this diet sucked for me in every way possible.
Now it's the Paleo diet.
I have yet to figure out the obsession with these fucking diets.
"I'm going to eat like a fucking caveman! Look how hardcore I am!"
Knock yourself out. Guess what? Cavemen didn't make it dude. We changed/evolved/got better, made better tasting food, got bigger, stronger, and faster. Cavemen didn't have power racks, barbells, dumbbells, or any shit like that. There is a reason why people got better. If the god damn caveman were the pinnacle of manliness we'd all still be cavemen, humping a carcass because we didn't know any better and naming everyone we know Grogg.
Cavemen aren't here any more for a reason.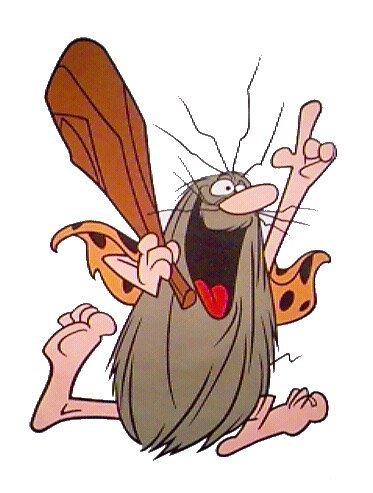 Captain Caveman is the only cool caveman ever
My guess is, they didn't exercise a whole lot. They probably weren't yoked out or swole. They died fairly young, and weren't too smart. So for the life of me, I can't figure out why some strength and mass guys have jumped on this damn Paleo diet bangwagon.
"Healthiest diet ever!"
I got that. And I probably even agree to SOME extent. I mean if your diet is lean meats, fruits, nuts, and vegetables that's hard to beat in terms of being healthy.
However the hating of carbs is retarded to a degree that is hard to explain. I mean do you REALLY think cavemen shunned potatoes? Potatoes come from the ground, you grow it. Yet I see plenty of Paleo boards and guru's talking about how you can't eat a damned potato, or not one very often. This is idiotic.
First off, our bodies are made to EAT carbs. Carbs and grains are not the problem. I don't give two shits what any of these diet gurus say/write/vomit, whatever. The primary source for energy in your body will always ALWAYS be glycogen. If you want to be a big, strong, robust son of a bitch you better have some glycogen in your body, and you better make it a priority in your eating. I don't know of a single impressive lifting son of a bitch that does Paleo AS written. I do know of some Paleo with milk guys and they like it (OMG THEY ARE DRINKING MILK!!! YOU AREN'T MADE TO DRINK ANOTHER ANIMALS MILK!!! :::::intellectual trainer thrashes about::::) And even if there was an impressive guy that does it now, he didn't become impressive doing it. That's because there aren't enough calories or carbs in that diet to make you fucking massive and scary. Period. I'm gonna rant more about milk later in this article too, because these anti-milk assholes drive me even more nuts with the bullshit they spew.
Our Ancestors and Old Time Lifters -
We've been eating bread for thousands of years. Same for potatoes, both red and sweet. Our ancestors ate these like crazy. They generally were not fat because they worked a physical job, didn't have an excess of food to eat, regardless of what it was, and their lives weren't based around food. In other words, they didn't rely on food to make them happy. They went fishing, hunting, played sports and games outside, went swimming, and did a whole host of other activities. In other words, they didn't eat a ton and were active, so they weren't fat.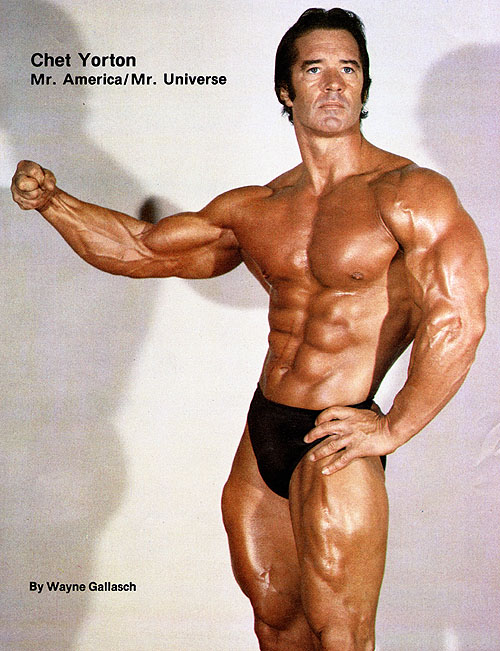 Chet Yorton
I mean shit man, go look at some really early muscle rags. There were plenty of guys that were ripped that didn't know they couldn't eat bread and potatoes. They did some very basic calorie counting, essentially. In other words, they exercised more and ate less, and they got leaner. Ooooo SOOOO magical! Did David Copperballs travel back in time to give them this magical "get ripped" formula????
They didn't have fucking macro-nutrient breakdowns and refeeds and deloads and and a whole list of other things that you need to follow. They just ate good foods, lifted, ran, swam, and did freakin activities. I've said this over and over again, there is no magical formula to get big and strong and lean. We've known how to do this for a very long time.
Don Howorth
Shit man, Weight Watchers has been helping people lose weight through a point system for what, decades now? And it works! And you know what it is? Calorie counting! OMG THE HUMANITY! That shit can't work it's too simple!!!!!! GRRRAAAWWRRLLLLLL!!!! ::::intellectual trainer thrashes about:::::
If you have a calorie deficit you will get leaner.
If you have a calorie surplus you will get heavier.
Your eating essentially defines what you look like, but I don't think that the macro breakdown is as important as everyone thinks it is. Calories at the end of the day, are the be all end all. That's a damned fact. Now someone will whip out the blueberry pie example on me, but I don't give a shit.
Joe Damico set a personal best in the Los Angeles marathon eating only MACDonalds (yes, MAC) for the 30 days preceding it.
http://www.myfoxchicago.com/dpp/news/metro/mcrunner-joe-damico-personal-best-la-marathon-mcdonalds-diet-20110321
Here's his blood work at day 25!
http://mcrunner.com/?p=517
There was another guy that did the 30 days just for body recomposition and it worked as well. All he did was count calories, lifted and did conditioning and he got leaner and all of his blood work improved.
The blueberry pie assholes and Paleo zealots would have you believe this is not possible, but the fact is from my own experience I haven't found that macro partitioning made a HUGE difference if my calories weren't in line with my goals. When I ate less, I lost fat. When I ate more I got bigger. If I ate too damned much I got bigger and turned into a fat hog. When I ate too little however, I would also stagnate in terms of bodyfat loss. Guys in prison get jacked on like, 90 grams of protein a day.
There are some happy mediums. They are for you to experiment and find out.
But basically in a nutshell if you want to get big you need to eat. And you need to eat a lot of carbs. You will not NOT get big on eating in that fucking Paleo style with limiting carbs and relying on a "refeed".
If you want to lose fat you need to slowly lower cals to a certain point, then start upping your cardio. This is bodybuilding get-lean 101 for about eleventy billion years now and it works.
Milk -
The other thing I see too much of now is this complete railing against milk. If you are lactose intolerant I understand.
One of the arguments I hear is that we're the only animal that drinks the milk from another animal and this shit makes me laugh and think I'm talking to someone who went full retard.
First off, this is like the caveman scenario in that are we REALLY judging how we should live by the way animals eat?
At least he's not drinking milk!
Dogs will eat the fucking carcass of another dead dog off the side of the road. They will eat cat shit. Most animals have the practice of cannibalism. Are you shitting me? We shouldn't drink milk because other animals don't drink milk from other animals?
Get the hell out of here with that bullshit.
Ok animals will drink the SHIT out of milk from another animal if they are offered it. I worked on a dairy farm for two years, and our Rotties drank milk from a 5 gallon bucket until they couldn't move. They could't wait for us to open up the tank and fill that bucket up.
Lots of animals are adopted by other animals and nurse from them. So this one is bullshit.
Oh and you know why guys can grow on Paleo with milk?
Carbs and more calories. OMG thrash about the floor intellectual trainer, you dope!
Bottom Line -
If you want to be a 155 pound ripped guy that talks about health, does distance running and thinks bodyweight exercises will make you as strong as you can ever be, then Paleo will probably be great for you. You will be able to buy into it and all the horseshit that comes with it.
But if you're a mass/strength athlete that wants to get as big as possible and wants to raise your strength ceiling as much as possible, you're going to need carbs and calories and possibly milk (GASP!).
When you need to take fat off, just do bodyweight x 10 in order to get a starting baseline for how many calories you need in a day to do that. If you eat McDonalds all day, so long as you stay in that calorie range and lift/run/bang you'll get leaner. Fact.
And BTW off topic, didn't we go to war for oil? That's what all the liberal whack jobs told me. Now gas is like $97 a gallon. Can we please go to war for oil somewhere now to lower gas prices? Sheesh.