Everyone who picks up a weight, and keeps picking up weights, is trying to become something they currently are not.
Let that sink in for a minute. Try to grok it.
To

grok -

to understand so thoroughly that the observer becomes a part of the observed—to merge, blend, intermarry, lose identity in group experience. It means almost everything that we mean by religion, philosophy, and science—and it means as little to us (because of our Earthling assumptions) as color means to a blind man.
To grok something, is not just to know it, it's to understand it so much that it's part of who you are. It's part of your soul and your energy. You understand it as much as anything you will ever understand in your life.
Let's get back to that, in a bit.
The fun house -
If you've ever been in a fun house, you know they have all these different kinds of mirrors. Some make you look short and stocky, or tall and skinny. Some make you look all squiggly.
Lots of people who train for a long time, especially bodybuilders and/or fitness competitors, end up living in one of these fun houses when it comes to their own perception of how they look.
I've got a friend who is 300+ pounds lean at 5'8", and his wife told me they have gone to bodybuilding shows and ask her "am I as big as that guy?".
To which her response was "that guy is 198 pounds."
I know fitness competitors that OBSESS over the smallest amount of "fat" (skin?) on their ass, or thigh. Not just at competition time, but year round.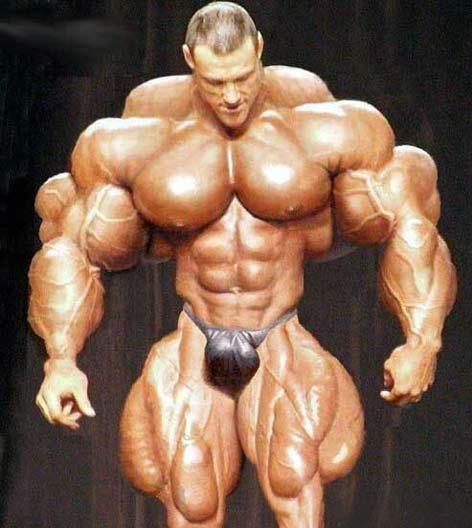 I need more mass!
Your training life, just like your personal or professional life, is a journey. Or let me say, it's supposed to be. People are in such a hurry to arrive at their destination that they never enjoy the trip, or even bother to ask themselves, what happens when or if I arrive at that destination?
Quit?
Make a new goal?
Obsess over fat on their big toe?
Want another inch on your bicep? What do you think happens when you add that inch? Yeah, it's not all you thought it would be is it? Now, you just need arms another inch bigger.
People that spend a lot of time trying to develop their body, often don't see themselves as they really are. They are stuck in the fun house. Looking into mirrors where they are too fat, or too skinny.
A few years ago a good friend of mine was in the gym training, and he was the leanest I'd ever seen him. And the biggest maybe too. He was getting ready to go on vacation for a week to Virginia Beach and wanted to look good.
"You look awesome dude." I told him.
He just kinda "meh'd" me.
"No seriously, I've never seen you this lean. You're definitely ready for that vacation."
But I could tell he didn't think too much of himself at the time.
Some years later he told me "I was looking back at old pictures the other day, and I pulled up those Beach pics. I couldn't believe that was me. I looked like that! That was the best I ever looked."
"I told you that at the time."
"I know man." he said "but the thing is, you never enjoy it when you're in it, because you don't see yourself for how you really are."
It was, without a doubt, the most poignant statement I'd ever heard in regards as to how people see themselves in this little sub-culture.
You don't get to enjoy it while you're in it, because you never see yourself for how you really are.
Never enough -
I know all of this because I've lived it. Well, not the fat on the ass part, that never concerned me that much.
I remember thinking, when I was younger and around 150 pounds that if I was 175 I'd be a fucking powerhouse!
"175, that's BIG!"
When I got to 175, what do you think happened? I found out that I wasn't Arnold. I wasn't quite as uber jacked as I thought I'd be.
"205. If I can get to 205 I will be fucking HYUUUGE! That's over 200 pounds. And anything over 2 bills is swole."
205 came, and went. And felt very much like 175 did.
I wasn't impressed with myself. I wasn't happy. I was nowhere near as jacked as I thought I'd be.
Then 225 and 240 came, so forth and so on. Never happy. I didn't look like I thought I would look. I also remember feeling fat and terrible once I cracked 245 for the first time. I was a bloated hippo carcass. But not as sexy.
At one point I was 280. Fat and miserable. Now in fairness to me, I got to 280 because the wife wanted me to gain sympathy weight with her, and my love for food put up very little of a fight. Ok so no fight at all. In fact that love pushed me with full force right into this exploration.
I stayed at around 270-280 for a couple of years. I wasn't strong at that weight either. I know some think I would be, but my work capacity sucked. I didn't train very hard really because I wasn't really training for anything in particular.
I began to hate that fat weight eventually. And as soon as the wife was ready to start dieting I was all in. I got back down to 230 or so within a few months. Felt better, started training harder again, and never desired to get fat again.
It was also some time between that period and now, that I lost all desire trying to get super massive and huge and all of that. I'm talking pro-bodybuilder size. I became very content with who I was, physically. I just wanted to be strong and in shape. Thus, one of my mottos. Be strong, be in shape.
What happened eventually, is that I ended up looking like what I had wanted to look like, or close to it, without training specifically to look a certain way.
Or maybe it's just that because I removed that inability to see myself for how I really am, that I realized I looked a certain way. My guess is, it's the latter. I quit obsessing over how big my arms or lats were, and just worried about kicking ass in the weight room, in conditioning, and in fighting. Suddenly, I looked better than ever. I don't think my body changed all that much really. I think I moved out of the fun house.
Dark steppin -
One of the biggest reasons that a lot of young guys use, is because they live in the fun house. And their mind becomes consumed with becoming something they currently are not.
The problem is, as I noted before, as they grow or change, they never really see themselves for what they are. This is why you have 300 pound guys with abs talking about gaining size.
It's really no different than athletes making 20 million dollars a year talking about feeding their families. It's absurd to the rest of us, but when you're used to a certain lifestyle, it doesn't feel absurd. You still gotta buy 10 lambo's AND groceries. You need those lambo's.
So you have these kids, or even adults, and they see themselves as weak and small. And no matter how much their body changes, or how many people tell them how big they are, they never reach the destination. One of the reasons I believe that is so, is because guys see other guys bigger than they are and then go right back into "I'm small and weak" mode.
Women do the same thing when they see another chic in fabulous shape.
"Her ass looks better than mine."
There's quite a few competitive bodybuilders at the gym I train at, and the biggest of the bunch came up to me one day and told me he knew who I was. I was flattered, but even more so when he told me he had told his wife he wished he had the mass I did. I was shocked because to me, this guy was really jacked. But in talking I learned I outweighed him by 20 pounds, at similar bodyfat levels.
People involved in fitness, powerlifting, bodybuilding, get in a mindset of comparing themselves to others. And then they seek out adoration or admiration of others to give them reinforcement that they are "ok".
This is the mindset that leads most guys to the darkside early. It's the mindset that causes average gym rats to run pro bodybuilder dosed cycles and do shit they have no business doing. And eventually their whole life becomes "what cycle can I run next?"
That's a sad existence. What kind of journey is that? What's the destination?
To get bigger?
We've covered that. It will never be enough if you are caught in that fun house.
To get leaner? Same. You'll never see yourself for how you really are.
To get stronger? You're always going to be chasing some number.
For you, and no one else -
The lesson I learned, that got me over all of these hang ups, was a simple one. But let's back up. I didn't learn it. I grok'd it.
It's part of my thinking and who I am.
I don't care if I have the biggest arms or lats or whatever compared to someone else. If every single soul was wiped off of the face of the Earth tomorrow, I would still lift. Without a single person to "impress". I am a "lifer" because I love to train. Not because I want to impress someone.
If you can't grok that, you will end up caught in that vicious cycle of never enjoying where you are at. You must do the things you do, for yourself, and no one else, and you must enjoy the journey. If you aren't enjoying the journey, then you either have no destination or will never reach a destination.
When I think of that scenario, I picture someone driving really fast through all of these exciting places. With tall buildings and amusement parks, hot women waving from the side walk, and big flashing signs. All the food and drink you could ever want, but you pass it right up.
The journey.
Then I see them at the end, in the dessert. Nothing around for miles and miles. Blistering heat and a thundering silence. Their lips are chapped, and skin burnt. They have a cup in their hand, but it's bone dry. They thirst so badly for water. Something they can't have.
This is their destination.
A big empty nothing.
If you aren't doing the things you are doing for the right reasons, then you will end up in that desert. Bypassing all of the great things you could have experienced during your journey.
It's ok to want to be something you are not. We all lift and condition and diet because of that very reason. But trying to become someone else, or trying to be something else because of someone else or what they think, is a destination full of nothing. This is the cup from which you drink. And it will remain empty until you change your destination.
When I show up in April for my meet, I don't care what anyone else there lifts. It doesn't matter to me. I'm there for myself. To test myself against me. No one else matters. If I give it my all, and still don't reach my goals. I will be happy. Because giving it my all, is all I can do. It sounds like dime store psychology, but when you really learn how to grok that, all of the negative associations you have about yourself fade away. Your fun house gets torn down. And your dessert is replaced by white sands and an ocean, and hot women bringing you drinks with umbrella's in them. Your cup is never dry, and you never thirst for anything.
And that feels good man..............
You think this goat gives a shit about abs and 800 pound deadlifts?