I've gotten a couple of e-mails this week, along with talking to a couple of guys I know that are really fucking strong, I wanted to drive this point home a bit.
Singles -
Singles are popular. Hell they are in all of my templates too. However, the difference being is that I've been very adamant about what BUILDS strength and mass in my templates.
The reps. The back off sets.
Need mass? Sets of 8-20
Need strength? 3's and 5's. Some dubs thrown in from time to time are good too, but reppage is where that pot of gold in strength and mass lay.
Singles are popular because well, they are fun, and well, they are fucking easy. Yes, they are easy. For those of you who do heavy ass singles all the time, congrats. They are still easier than a ball busting set of 15.
The problem with singles is that people often forget what they are really the most useful for. Demonstrating strength. Showing people how "strong you are". The fact is, they are inferior to building the 1 rep max in relation to reps. Reps being anything over 1 rep.
The strongest powerlifter that ever walked the planet is and always will be, Ed Coan. Ed generally used a 10-12 week peaking cycle leading up to a meet. The first few weeks were 8's, then many weeks of 5's, then some weeks of triples and a few weeks of doubles before he hit a single.
So let's back up.
Over the course of 10-12 weeks Ed had ONE WEEK, where he did a single. One. Uno.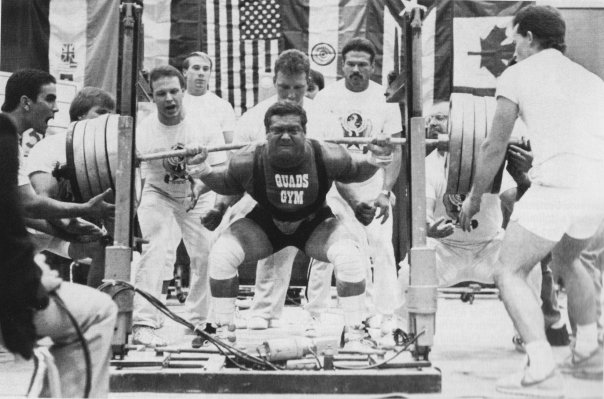 Did reps....
Ed's buddy, Kirk Karwoski was the greatest squatter ever in my opinion. He too ran a similar cycle. From Purposeful Primitive Training, here was his cycle....
Weeks 1-2 work up to 1x8
Weeks 3-8 work up to 1x5
Weeks 9-10 work up to 1x3
Weeks 11-12 work up to 1x2
Not a single week of a single. 'Mazin. If singles were that god damn important, don't you think that Coan and Capt. Kirk would have been doing more of them?
If that doesn't suit your fancy, look at Sheiko. There are more sets of 5 in that program than rock star dicks that have been in Pam Anderson.
I could paste routines all day and night, but I don't need to beat a dead horse.
Maxing out with singles does not build strength. If it did, all you'd have to do is pick a meet and do one every week. Guys don't do that because they know that shit doesn't work.
Back off sets and reps -
I've told guys this over and over again, the singles in both the strong-15, and big-15 are PRIMERS. The stuff that BUILDS the lift are the back off sets. It's still imperative to pick your weights properly for the singles. However the building blocks of the program, are the reps, and back off sets. This is where the STRENGTH for the singles are built.
It's actually more important to worry about what you are doing with your back off sets, than what you are doing with the singles, however.
One guy e-mailed me this week to let me know that he ran the strong-15 and hit a PR on the squat and overhead, but the PR's were small. He admitted he knew why. He programmed way too high. Every guy that has programmed smart, and conservatively in my programs, has had big meet days. What I have found for the guys who don't hit big new numbers, is that they are generally non-competitors who don't know how to leave their ego at the gym door, and train smart. They want to "impress" people at the gym. This drives me insane.
Does reps and back off sets
You are in the gym to get stronger. Not demonstrate to everyone how strong you are. Train the lift, and build your demonstrable strength with reps. When you follow the strong-15 or big-15 routines, it's ok to even add volume on the back off sets if you feel that it's needed. The sets and reps I have for it are conservative because it's the minimum requires, and most guys add on a shit ton of assistance afterwards rather than being smart and picking 1 or 2 quality movements to follow up with.
However, if you're feeling awesome, and you do the 2 or 3 back off sets listed, it's better to continue on with the back off sets for another 2 or 3 sets, and knock off the assistance for the day. You're there to build the lift right? Take advantage of a +10% day by doing more volume in the back off work. Not setting PR's in your assistance bullshit.
Program as low as possible -
One of the things that you should be asking yourself when you do your programming is this.
"How low can I program in my training, and still hit my goal?"
The older I get, and the more shit I read from the "old timers" the more I realize they were giving me so much gold in terms of training economy, that I never really understood.
Coan talked about hitting his deadlift opener for a double in his training in the last week of his training cycle. He trained for his opener. Think about that.
Most guys program way too damn high. Again, it's about ego and setting unrealistic goals. For every guy that I've had write in to me that went 9 for 9 with 5 new PR's, I've had 5 write in to tell me that he didn't get through phase 2 because he missed some lifts. They are always gym lifters, and they always have unrealistic expectations.
Phase 1 is nothing more than an acclimation phase. Light and easy stuff on the big movements, high volume work on the support/assistance movements. This should get pared down in phase 2, and even more in phase 3 (which I will outline more in LRB/365).
Remember, there is an ebb and flow to main work vs support work. The lighter the workload in the main work is, the more support work you can do. Once the intensity starts to creep up in the main lifts, the support work needs to take a backseat.
Lots of guys write out a routine and do something like this...
Squats - strong-15
Pause Squats - strong-15
Good Mornings - 5x10
Leg Curls - 5x20
Lunges - 5x20
In phase 1, they feel great. Phase 2 comes around and near the end, they start feeling more crispy. Why? Because they are pushing more weight now on the big movements, and still trying to add weight on all of the assistance stuff, with the same amount of volume.
Phase 3 comes around and they miss a lift or are just ground into dust. It's because they didn't scale down the support work accordingly. If you're doing 15 sets of support work in week 1, you should not be doing 15 sets of support work in week 9, unless you decided to stay with pretty much the same loads for those lifts. If you are pushing the weight on the support work, phase 2 should look more like this....
Squats - strong-15
Pause Squats - strong-15
Good Mornings - 3x10
Leg Curls - 3x20
Lunges - 3x20
Phase three might look something like this.........
Squats - strong-15
Pause Squats - strong-15
Good Mornings - 1x8
Leg Curls - 3x10
Lunges - 2x25
Notice the play in volume? 1 set of 8 on the GM's rather than 3x10. 3x10 on leg curls rather than 3x20, and 2x25 on the lunges, rather than 3x20.
You should be accommodating the increase in intensity on the main movements, by decreasing the work load on the shit afterwards. If you're programming as low as possible to still hit your goal, managing the support work should feel easier.
So how low should you program? That's something you will have to figure out with the way you respond. However, I've seen this over and over again. If you can CRUSH 90% of your goal, the goal is there. 88% more than likely too. If you just have to have complete assurance the goal is there, crushing 93% of it, is money in the bank. The only issue with that is, most guys program for an unrealistic goal, so that 93% is usually more like 98% of what they are capable of, and then they start missing lifts and getting beat up.
When in doubt, program lower, and do more back off sets. This will always serve you better than doing heavier and heavier singles.
Do some reps and get big and strong. You're welcome for that unbelievable knowledge bomb.
Thanks Pegg