If you haven't been following my base building series then some of this might not make sense. It behooves you to go back and read it, and ruminate on the things I wrote about in there before proceeding.
Deficit Deads and block/rack pulls -
I've had a lot of doods ask me why I am doing deficit pulls in prep for this meet, and not block pulls like I have done in the past.
I like block pulls still, and think I have used them at very proper times in my training life. I needed to get accustomed to pulling "heavier" weights. From below the knee it allowed me to do that. I think that anything higher than that (at knee height) is going to be a mixed bag for most people. Pulling above the knee, in my opinion, is a complete waste of time that has no carryover to the floor for 99.99% of people.
In fact, let me add this about block pulls and partials. If you can use more than 10% of your floor max on a partial pull, it's very likely that it's not going to do much for your pull from the floor. That big of a difference generally means you've changed something mechanically to benefit your pulling that you can't do from the floor.
Guys don't want to get this through their heads. Just because you're pulling 1,000 pounds from X height, if you're still pulling 600 from the floor, it isn't fucking working. Give up your ego and find a new way to do things. I found great carryover from pulling mid-shin to the floor, however I needed to pull far heavier than I wanted to pull in order to do that, and it beat me up pretty good. I find that my dead moves pretty well IF I can train it each week, but not get crazy in terms of intensity (nothing over 85% or so, max).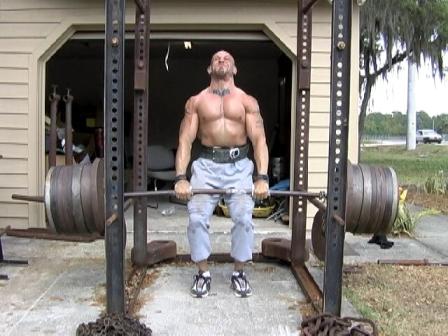 Waste of time
So this leads me back to pulling from a deficit. I like deficit pulls. I do NOT like huge deficit pulls, i.e. pulling while standing on 4" blocks, unless it's stiff legs. I did this before for an extended period and what I found was, the ROM was too great in order to give me carryover from the floor. I got more legs involved in the pull for sure, but I wasn't able to transfer those same mechanics over to my regular pull.
My deficit is a 35 pound plate at the gym. It's a bit thicker than the other plates. If I had to guess 2" at the most. If I am pulling at home, I will use a 45 and throw a couple of mats underneath it.
I am using the small deficit to do a few things....
1. Force me to stay light
2. Make it slightly harder to pull from the floor, so that when the meet rolls around, I have a little more "oompf" from there.
Mainly, it's to make sure I don't end up pulling too heavy. I have really begun to see the benefits of stay well away from your ED max and higher percentages and it's paying huge dividends in my training. The next two weeks I will push a little heavier than I have been, but if anything grinds I will be disappointed. I absolutely believe now that the fastest way to GRIND progress to a halt......is to grind. But that's a whole nuther article.
Straps and touch n go-
I don't use straps to pull. I've done it before but because I've pulled mixed grip for so long, it does not feel "natural". Some guys can throw the straps on and pull more, and not just because of grip issues but because their body can be more mechanically efficient pulling that way. Here is the rub with that.
If you aren't going to pull hook grip, you're probably not going to get the carryover when you return to mixed grip. It's not the same. That simple turning of the hand is really that big of a deal in terms of changing the mechanics of the movement.
Doing a piece on tugs isn't proper with a pic of KK
If you have grip problems, the LAST thing you need to be doing is using straps for the love of Dog. I mean seriously, you've got grip problems and you're going to use straps? Let's just slap some fast actin Tianctin on those dick herpes and call it good.
Stop fooling yourself.
If you can't hold on to a deadlift, then grip is the problem. Strapping up and pulling even more isn't going to fix the weak link in the chain. Stop trying to be a youtube champ and fix your shit.
Ok so how to fix the grip for deadlifts? Let's return to that piece of shit above the knee rack pull. Throw on your max pull, shimmy it up your legs like a fat ass trying on jeans that are way too small, and then hold it. If you can, that is. Do this for time. I don't see as much value in things like plate pinches and such because it's not mimicking holding a bar. You know, which is what you're doing when you pull. This is the only thing that above the knee pulls are worth a shit for in my opinion. Helping the grip is what it does best.
The other thing I notice about guys who use straps, is that they like to do a lot of touch n go reps. That's fine. Is it "cheating"? I guess that depends on what you call cheating. As far as I know there is nothing illegal about doing this in a gym. I do think it inflates a guys ability in that a strapped up deadlift for touch n go reps is going to yield a greater number of reps than no straps with dead stop reps.
Here is the rub there though. Some guys do gain in their pull from touch n go, and some don't. In fact I see some guys pulling damn near their max for reps when they throw on the straps and go touch n go. The problem is, if that is NOT building your deadlift when you have to pull without the straps then ditch the straps and the touch n go bullshit.
It's not that touch n go is bad, it's that it can be misleading for the lifter. You need to be honest with yourself about whether or not it's improving your pull, or if it's just improving your "strapped up touch n go reps" style deadlift. If your max pull is 530 and you go from pulling 475x5 to 500x5 strapped up touch n go, but you are still pulling 530......it didn't work. It's simply that you got better from a mechanical standpoint at doing that kind of movement. Throw it out if that is the case. If your regular pull rises along with it, keep it in. This isn't much different than a guy getting better at doing board humpers but his actual bench press doesn't improve.
It's that simple.
Improving your deadlift then.....
Outside of perfecting your technique a few things to recap........
1. Don't pull from a height that isn't below the knee. If you do and you're pulling more than 10% from that height be cognizant of how your floor pull is responding to it as well. If you're pulling WAY more than said 10% then you are probably being put into a mechanical advantage that you DON'T have with your regular deadlift. Don't expect any carryover if it's more than 10-12%.
2. Use small deficits to stand on for the same reason. You don't want to change your mechanics very much from how you pull regularly. Again, once you do there is little benefit to the floor pull.
3. If you're not pulling hook grip, then straps with double overhand are going are going to be different than how you pull with a mixed grip. I wouldn't expect carryover (though it doesn't mean it can't happen). If you're doing touch n go reps, but your max pull isn't moving, start pulling dead stop reps.
4. If your grip sucks, use that piece of shit above the knee rack pull and do timed holds with a heavy weight from there.
5. Essentially, make sure that if you are doing a variation of your competition pull, that the variation isn't so much that you are using far more/far less weight, and making mechanical changes that aren't in your regular pull. Remember, a deadlift variation should help the regular deadlift. It may take you some time to figure out what variation gives you a fair amount of carryover but that's all part of winning the war.