This is going to be a big part of the new big-15 program and has given me a way to kind of pin down the "type" of sessions to be done during a template.
This could have gone in the book but I will give you guys this out of the fucking goodness of my plums.
It seems simplistic, because it is. But one of the great things about simply applying a label to a session, is that it reminds you of what it's about.
Big sessions are essentially sessions where you use multi joint movements, and move as much weight as possible. Usually 1-3 "big" movements are done in a big session. Volume is more limited, and a bigger emphasis is placed on working as hard as possible. After the big movements, lesser movements can be done as supportive work, or not, depending on feel.
Big workout.......
A big lower body session could be squats with a 50% set, followed up by hamstring curls and calves. Or it could be squats then hack squats, then some calves if after those two big movements you are spent.
Upperbody is always a push, a pull, then either some light assistance work, or a secondary press. The secondary press can be done in a myriad of ways. Volume with light to medium weight, or up to a heavy ass single, if you went balls out reps on the first press. There is some playing room after the first push and pull. This is the time where you get to play a little bit, but also work hard.
These are your hardest sessions of the week. Pretty much no matter who you are, 2-3 is going to be the max number of big sessions you will do in a given week.
A small session are usually single joint movements, but can be multi joint. However an emphasis is placed on volume, working fast, and not worrying too much about progression, but not throwing it away all together. A small workout would be something like face pulls for 6 sets of 20, then curls and triceps and abs. All in a circuit or just with very little rest.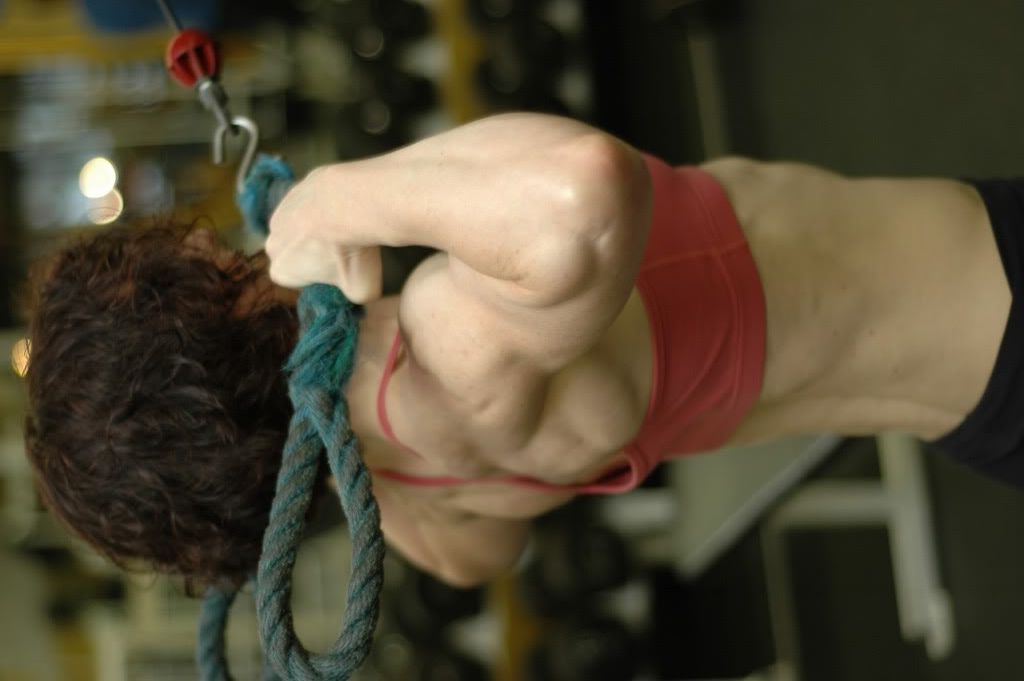 Cable face pulls. A new fave and this chic is jacked too, which is uper cool
You don't have to go heavy to make this work, and in fact, the emphasis should be on going light, and resting very little to force as much blood through the working area as possible.
Some high level overview ways to think about splitting up your big and small sessions -
Training for absolute mass - 3 big and 3 small
- You will actually have 2 upper and 2 lower workouts that you rotate in here. So one week you'd do upperbody #1 and #2, and lower body #1, and the next week lowerbody #1 and #2, and upperbody #1. You can even split this across 1,2,3 workouts for upper and lower as well. I would not exceed three however.
Training for recomp - 2 big 1-3 small -
Basically, this is for guys like myself, who are near their peak, need a little more recovery time, but still work hard as fuck to make gains. I can't do 3 big sessions anymore because of the poundage I move. No, I'm not Kazmier, but for me, the lifts I move I don't recovery fast enough from anymore to train 3X a week. That's why the little sessions are so beautiful. I can do 2-3 little sessions on top of my big ones, and fill in all the cracks to what is usually a very limited program.
Training with in-season sports - 1-2 big 1-2 small
Not a lot different than training for a recomp, but possibly training even less. For a guy that is training in MMA for example, he could even get away with 1 big lower session (squats and deads), and 1 small session (pull aparts, arms, abs, calves) one week, then 1 big upper body session the next week (incline, rows, clean and press) and 1 small lower body session (lunges, leg curls, calves).
These templates and splits leave LOTS of room for individualizing and customization. The important thing to remember is what a big workout is, and what a small workout is. Jesus fucking christ, don't ask "can I do db bench presses on the small workout day". Do that on a big workout day. The small sessions are not supposed to zap recovery much if AT ALL. Use the small sessions to hit stuff like rear delts, cuff work, biceps and triceps, and rehab any nagging injuries. If you're a bodybuilder, use them to do stuff like bring up lagging bodyparts by targeting those areas with an isolation movement.
This is part of the new foundation of my ideology because I have really evolved my training into this, and it has worked beautifully.
More on this in Strength - Life - Legacy.