Be strong, be in shape.
As I wrote in Strength, Life, Legacy -- strength is king, but conditioning is the queen. And every good king needs a good queen.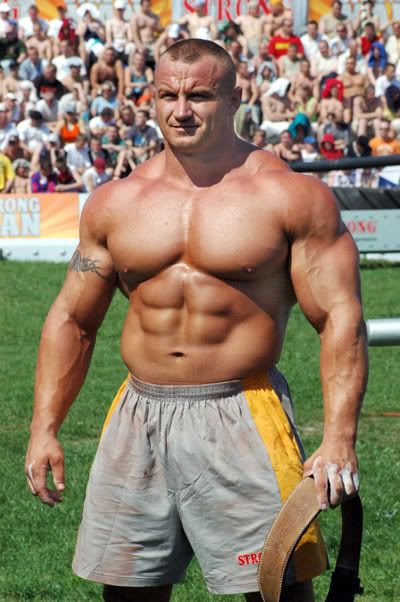 The strongest guys in the world, professional strongmen (not powerlifters) have to place an emphasis on conditioning in order to compete at a high level in their sport. Yet somehow they manage to be stronger in virtually every way than other strength athletes. Namely powerlifters, who place such a low value on doing hard conditioning work. This should be an indicator that you can be in shape, and be strong. Getting fat and out of shape is not a requirement to move big weights.
When I first started writing on this blog, one of the things I tried to drive home was the need to have a certain level of conditioning, and maintain a base of conditioning, no different than a base of strength. If your strength is only good for waddling up into a squat rack or monolift, and doing a single rep, then it's not good for a whole lot. How much application can it have when you breathe heavy on a short brisk walk?
The answer is pretty easy. Not much.
Let me put you in a situation where you are oxygen deprived, and we'll find out how strong you really are.
For those that scoff at that, imagine yourself in a parking lot with two skinny guys that go to car jack you, or simply want to take your money. After you throw a couple of your fat armed heavy punches, you're done. "Well all I have to do is connect one time." I love it. I'll rely on chance rather than preparation to improve my odds.
Dumb.
Ever see the big fat guy in a fight that is tired, who trips and falls because of fatigue? Yeah, that'll be you.
But hey, that scenario is unlikely. So how about a game of flag football? Or walking around the zoo with your kids? Don't think I've haven't known of guys that couldn't walk around the zoo very long without having to stop to catch their breath. That's pretty sad isn't it? I think so.
What good is all of muscle and strength in the world, if you can't do anything with it besides perform a single rep of a movement?"
"I'm a powerlifter, I squat, bench, and deadlift with it."
So you don't do shit with it. Thanks for clarifying. You use it to do some singles in a fringe sport that 19 people follow. Awesome.
A few years ago at the Arnold, I was told about this world record bencher who couldn't get around without an oxygen tank. What good was that giant bench press when ol' boy couldn't breathe without assistance??? It wasn't worth shit. If someone had attacked his woman they could have banged her right in front of him, and he would have been totally incapable of defending her. So again, what good was all of that "strength" that was bottled up by an oxygen depleted body? Not a damn thing.
Fat guys don't condition for the same reason douche bags don't do legs.
It's hard. They suck at it. It beats the shit out of their ego.
"I get weak when I do cardio."
I know you do. Because you're out of shape, fatty. Did you know that after you get into shape, your strength returns?
"I only care about strength and powerlifting."
Fat doesn't have a functional application in strength sports. It doesn't contract, it doesn't do anything except take up space. It just sits on you. Pudz won the Worlds Strongest Man 5 times ripped to shreds. Captain Kirk went over 2K raw at 242 with sub 10% bodyfat.
Lots of guys can, and do stay in shape, while getting stronger.
"Yeah but those guys are on the sauce."
So was everyone else. And they lost. Case closed.
Being in condition allows you to do more work, recover faster, keep bodyfat down, allows for better nutrient uptake, keeps blood pressure lower, your heart and lungs in shape, and more shit than I can list here.
In other words, getting your ass in shape allows you to train harder, more often, and all that does is make you better, faster. Last time I checked this whole physical culture thing was supposed to be about getting better.
I had someone tell me one time "be the strongest small person you can be." She didn't mean to be "small" she meant, don't get fucking fat to lift a couple of pounds more. It doesn't make a lot of sense.
You should be setting aside so many days a week for conditioning. Period. If you are a lifer, and you're training has a big picture view, then conditioning is a huge part of that big picture view. It doesn't matter what that conditioning is; hill sprints, sprints, sled work, tired hammering, truck or car pushing, bag work, whatever. Just make time for it, and take it seriously.
Plus, I don't care what anyone says, being jacked looks awesome. Especially if you have go with your show. Part of having the "go", is making sure you actually can.........without a Wal-Mart scooter.