I went to St. Louis yesterday for work. Long ass day, but had a lot of time to spend with a friend and talk about various shit going on in our life and in the world, or our perception of it.
One of the subjects we discussed was our current generation of males, and what a sad state we are in.
Most men I see today have become domesticated. Owned up by their women/girlfriends, pussy whipped, fat and out of shape, or skinny and out of shape. Pacifists who give too much of a shit about politics, not enough about disciplining their children, and not enough about being a leader in their house/home/life.
You may or may not be one of these clowns. If you aren't, you most definitely know one.
The guy that leaves in the middle of a night of buds hanging out, because his wife/gf texted him. He's the "I gotta go" guy.
/checks phone....sees text from battle axe/
"I gotta go guys."
Yeah that guy.
This is also the same guy that has kids that act like they have been living in the wilderness when and the battle axe brings them over to your house. They have no respect for your home, they are loud as Hyena's fucking, and you get to watch him and the battle axe barter for them to "be nice". They "don't spank" because that's "child abuse" and "we don't hit our kids".
This guy has never been hunting, or doesn't care for it. "Just don't see the point in it." he says.
If sex ever comes up, in a serious way, he's not banging it out with the wife/gf but once a week or so. He talks about it the same way he talks about rotating the tires on his Stratus or changing the oil. A mundane task that has to be done. Not something that seems to get his blood pumping.
This is a sad existence.
A while back I wrote a piece about how to
how to lose your man card.
If your test levels have bottomed out and you find yourself washing your wife or gf's toy dog for her on the weekend, then maybe it's time to rearrange some shit.
Let's talk about it.
Go hunting -
Please spare me your animal loving bullshit here. I love my dogs and cats and all that shit too. But we are STILL hunter gatherers. Notice how "hunter" comes first there?
Get out, and go kill an animal to eat. This is one of the very basic instincts you have, that has been fucked out of you by our tree hugging society.
"Don't kill bambi!"
Go fuck your own face.
How do you think you got here? Your ancestors killed animals, and then ate them. Get back in touch with your primal self by learning how to shoot a gun, how to field dress an animal, skin it, then eat it. You can cook it first, my bad.
Or not, that's even manlier.
I don't care if you kill a deer, or a moose, or a squirrel, or a rabbit. I don't care how you kill it. You can shoot it, or jump out of a god damn tree with a spear like Rambo. Just kill something that is made out of meat, that you intent to eat.
It's hard to get much more primal than this
This is the essence of part of your male wiring.
But for a lot of men it has been driven out of them by society. This is not a "turn into a caveman" rant. This is a "find your inner warrior lost manliness" rant. Developing your primal self through actually hunting and making a kill for food is day 1 man shit. Yes I know, you can go to a fucking MacDonald's on the corner and get "meat". Don't be an asshole, try to understand what I'm getting at here.
Do a survival camp out -
Being in IT, I work with nerds everyday. For years I tried to get them to go with me on a weekend bare bones camp out. I only had two guys that would kind of agree. Basically, pack enough stuff for a breakfast the next morning, and that's about it. You can even combine this with your hunting expedition, and that's even cooler. That's what we had planned. The ones that flat out said no, were exactly the kind of domesticated pussies I'm writing about here. No balls, and owned up by their women. No desire to live life in an uncomfortable manner for more than a couple of minutes.
Bring a knife, some fishing line and hooks, and a sleeping bag. That's it. Spend some months researching how to build a shelter (off the ground), learn how to make fire without a Zippo. You don't have to go out and do this for a week, though I have and it sucked thoroughly. My neighbor does it yearly in Colorado Moose hunting. I hate him for not taking me, but apparently it's some long standing tradition between him and his old friends. Which is cool, and I can respect that.
Put yourself out of your domestic shelter for a weekend or so. You (probably) won't die, and you'll have some awesome fuckin stories to tell. Just avoid anyone in the woods that asks you to squeal like a pig.
Get in shape and quit drinking so much god damn beer -
I haven't had a beer rant in a while, so it's time.
Yes I hate beer. I don't get the god damn obsession with it. It tastes like shit, fills you up, and makes everyone I know that drinks it regularly, look like everyone I know that drinks it. Namely, fat and shitty. Bloated face, big gut. Pretty non-fucking manly.
I also love when little bitches who read my rant about it, throw a little-bitch bitch fit about it. Your function creates your form. If you're packing a beer gut and are fat, maybe it's time you change some things in your habits? Ever notice when they want to cast a bad ass mother fucker in a movie, that's supposed to whip people's asses like it's his job, that he's in shape? When they made 300 did they ask Gerard Butler to get a fat gut for his role as one of the baddest mother fuckers of all time, or did they ask him to get chiseled?
Ever notice that Roy "Big Country" Nelson is kind of a comedy act in MMA? Also notice, that he's lost 3 of his last 4 fights and 5 of his last 8? Heh.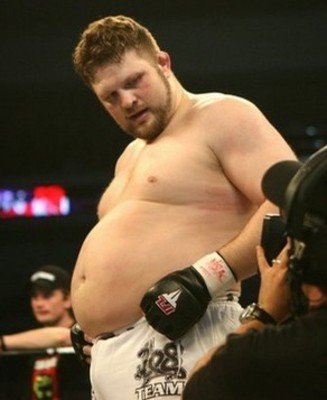 Chalk up another "L"
If Roy got his fat ass in shape, and dropped to 205 he would probably be one of the better 205 guys out there. Ever notice most of the best fighters are in bad ass mother fucking shape? Yeah. Thought so.
You really have no reason to be fat. None. Be strong, be in shape. I know way too many strong as a bull lifters that are in shape and lean. And a lot of lifters I know that are fat, tend to be heavy beer drinkers. Cut the beer out and get your fat ass into shape. Train like you're going to have to fight Alistair Overeem in 8 weeks and see how that frame of mind changes you.
Or sit back behind your computer on an internet message board and make jokes about people who lift and run and are in shape because you don't have the stones to be.
I need to ask this question more.....
Change your relationship attitude -
Quit getting bossed around like a bitch. Period.
A friend of mine recently went through this shit. He had been dating this girl for a while, and was getting pretty owned up in the relationship. Her dogs were shitting all over his carpet, he wasn't getting sex like he wanted, and she was dictating everything that was going on in the relationship. He told me that this was a problem in his former relationship. Literally, that he "didn't have any balls" when it came to telling his women, what was what. He told me that she still hung out with her ex boyfriends, and that shit made him mad as hell. But he wouldn't tell her to stop.
I told him to fucking grow a pair. To either break it off, or lay down the law. And to quit running to her beck and call all the time. Be a fucking man, don't get owned up like you're a second class citizen. If she didn't like it, she'd leave and problem solved.
So he did. And they broke up. And a week later she came calling for him back. And he laid down some ground rules about what was cool and what wasn't. Since then he's told me their relationship has been awesome, and she's respected all the things he asked of her. He even gets to hang out with his friends again (GASP!) without her permission.
Don't be this guy. We all know this guy, or you may be this guy. Guys do this because they have become desperate. They have trouble finding a girl or getting a girl. So when they get one, they hold on for dear life and do everything she asks. This is fucking pathetic. The best thing about a hot chic? There's two more right behind her.
Your girl is replaceable if she sucks. She definitely should be replaced if she isn't sucking enough.
If you're getting owned up in your current relationship and you're miserable about it, grow a pair of balls and do something about it. Be a man. Be a leader. Don't be led.
I'm not telling you to you need to treat your woman like shit. I'm saying, if you treat her like a Queen, and she treats you like the Fool, you need to find a way to get your crown back.
Make time for YOUR friends -
I had my birthday party last month, and over 30 people showed up. It might seem shallow on the surface, but I thought that was a pretty good indicator of the kind of friend I've been. If people don't like you, they don't spend 9 hours making you a cake, show up with $50 and $100 bottles of liquor and stay until 3 in the morning.
This isn't a "look at how awesome I am" newsflash from the city. I make this point because, when people show up to celebrate your birthday, it's some type of indication that you have been significant in their life in a positive way.
I take friendship very seriously. More than most I think. Get back to some basic male bonding with your good friends. And no, that term is not gay. If you want to use a different term, go ahead. But I want to steal from wiki here since I think it lays it out pretty nicely.........
Male bonding is a term that is used in ethology, social science, and in general usage to describe patterns of friendship and/or cooperation in men (or, in the case of ethology, males of various species). The exact meaning of the term differs across contexts.
In the context of human relationships, male bonding is used to describe friendship between men, or the way in which men befriend each other. The expression is sometimes used synonymously with the word camaraderie. Friendships among men are often primarily based on shared activities and ambitions, instead of emotional sharing (which is common of women's friendships). This can include playing musical instruments, video games, business ventures, creative endeavors, journeys, quests, sporting activities, fishing, hunting, camping,gambling, social drinking, or working with tools.
So if you haven't spent some time with your buds lately doing fun male shit, make time for it. Play some Call of Duty, watch the fights, eat a bunch of meat from the animal that you killed and play Slayer really loud until 3 in the morning.
Lastly, have an awesome weekend -
If you can't laugh at these bits then you are a whore, and deserved to be treated like one.
I hope everyone does something awesome and worth talking about this weekend.
Lift Run Bang mother fuckers.