I've been dieting for two weeks now, down to 239.8 pounds in the morning from 252-253, and evening weight is now 243 down from 255. So in two weeks that's a solid water and glycogen drop with some fat, however I've adjusted to the low cals and energy has returned a bit. That usually happens to me the first week/week and a half into a diet. Things will be readjusted after this week as well. Since I am opening with a thought about the scale I want to address an interesting question that came in that I wanted to touch on a little more............
Paul, what would you recommend to an intermediate trainee that had a good strength base, was around 200-210lbs @ 15% body fat/5'10 height (natural) and was stuck at a road where they felt like if they cut some fat, they'd be too skinny, but if they gained, it may get messy? I find myself stuck at this point often despite recommendations to cut the fat back when you're around that 15% cutoff point.

For me, I start to get vascular and have some solid ab definition around 185lbs when cutting from that point. But I feel like a fucking swimmer/bean pole in a t-shirt. On the other hand, having a layer of goo canceling out any vascularity and having feint abs when flexed sucks. This weird weight/status as a natural lifter just makes me want to load up the syringe and go to another level where one can be lean and jacked in a t-shirt.

Input?
My input on this? This is what 5'9" 185 pounds ripped looks like..........
That's pretty fucking jacked.
The one thing that continues to plague guys about how they look or feel about themselves is when they decide to strip off bodyfat, they begin to realize they don't have as much muscle as they thought they did.
The 230 or 240 guy is shocked when he's not just RIPPPPED at 210. The one thing about the internet is that you get a look at every freak that is pretty much walking the face of the Earth. The other 99% see this, and think that's within their grasp. Then reality comes slamming down like a 16 pound sledge hammer when they realize after a few years of training, they aren't the living embodiment of Thor they thought they were.
Here's some harsh fucking reality.
If you're in the 5'9 to 5'11" range, you're probably not going to be 210+ ripped. The very elite "natural" bodybuilders are generally within that range. And those guys are the elite, truly genetically gifted, and probably using just a little sauce to boot. Skip Lacour, through my own conversations with him, competed usually at 213 pounds or so, and Skip is TRULY a genetic freak, and I'm not 100% convinced he's lifetime natural. But for sake of conversation, we will pretend he is. He pretty much owned the natural bodybuilding circuit for years. Do you have those kinds of genetic? Doubtful. Very fucking doubtful.
I was at a bodybuilding show a few weeks ago, and I saw LOTS of big FAT guys. You know, the guys that don't have a single ounce of visible separation in their arms or shoulders. None of which impressed me. I was 280 at one point, and looked just like that. The most impressive guy I saw on stage was a guy that was 5'8" 208 pounds. And he looked beastly. I'm sure after a good carb up, he'd be 220-222 or so, but you get the point. And this was not a natural show.
Here's some more harsh reality.
No matter what some board guru tells you about bulking up to some gross degree, you cannot force feed muscle growth, nor will you exceed your muscular potential by doing that. It's a waste of fucking time. I know. I've done it. So this isn't me talking out of my ass about it. I bulked to 280 for an extended period, and when I dieted back down, I actually ended up smaller because it took so long to get the weight off. This is pretty much backed by every guy that has done this, from Dave Tate to Jim Wendler to Shelby Starnes to Alex Raymond. Getting grossly obese through bulking does NOT take you to some new fucking level of big. It just makes you fat.
Here's some even more harsh reality.
You're probably not going to sport 18 or 19" arms. And when I say sport 19" arms, I mean, LEAN 19" arms. Having 18" fatceps ain't shit. I've seen eleventy billion pics of a guy holding a tape measure around a 18" fatcep that looks like an obese grandma arm.
Regardless of what you read on message boards, or some dumbass tells you, a 17" arm RIPPED, is fucking impressive looking. It's also something you may never achieve if you don't have the genes for it.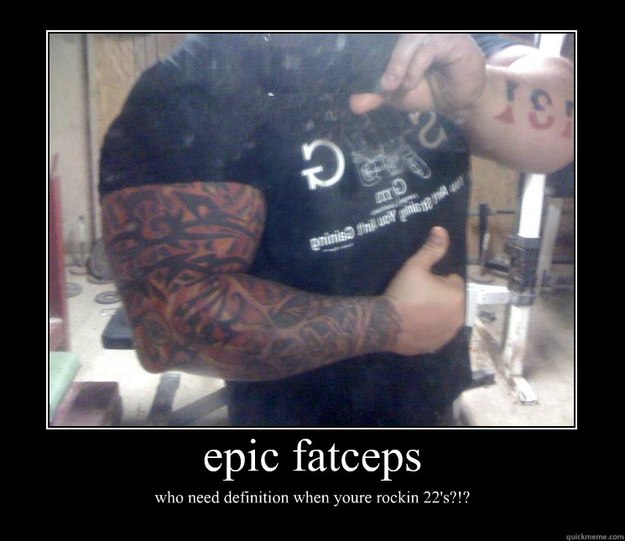 Saw a lot of this shit at the BB'ing show
What it really all comes back to is that. Your genes. Like it or not, you are stuck with em. And no amount of food or training can get you past that. The only thing that will is darksidin. That's it. That's all. And the other fact there, is that there are plenty of "look like nothing" guys that darkside too. TRUST ME on this, I laugh a LOT, at guys who take a freak ton of shit, that don't even look like they fucking lift.
This is why I pound the point of training hard and being consistent over a long period of time, and learning lessons to get better. With that knowledge, nothing else matters.
Now of course, there will be lots of vaginas hurt, lots of egos bruised, and lots of "men" who turn into little bitches about all of this, but that's reality. You're not going to bench 600 either. There. I said that too.
Most of us are just regular dudes. Some of us train harder than others, and are smarter than others. Some of us are a little more blessed, and some a little less blessed, genetic wise. Just because Joe Fatboy or Joe Muscleman down the street was able to do X, Y, or Z doesn't mean it's possible for you either. This again, is part of being a LIFER. You shouldn't be concerned about what they did, or are capable of because it has ZERO bearing on what you are capable of. Stop propping up other people as examples of what is possible for you. It has ZERO correlation. Ronnie Coleman won a shit load of Mr. Olympias. You aren't going to. Andy Bolton and Benni deadlifted a grand. You're not going to. Andy pulled 600 the first time he ever walked into a gym. It took him 20 years to add the next 400 pounds. And lots of guys pull 800 at a young age, and never pull 900. Lots of guys go pro in bodybuilding at a young age, and never win or even place top 5 in the Mr. O.
This is not meant to brow beat or tell you how limited you are. This is to get you to stop looking at genetic outliers and guys who use obscene amounts of gear in order to get to a certain level of physical prowess, and using them as the base for what is "acceptable" for you. You should always try to get better, but you will have physical limitations, that will probably be very similar to the guy on the bench next to you at the gym. We aren't special snowflakes for the most part. If you happen to be an Eric Lilliebridge or what have you, that's awesome. If you aren't, that's ok too. Eric has come to me for training advice and pointers many times, even though Eric is obviously plenty stronger than I am (except on incline!). One of the things that makes Eric great, is that he doesn't let his ego get in the way, and thus he keeps getting better.
Be strong, be in shape.
Eat quality food. More of it if you are trying to gain, less of it if you are trying to lose.
Do conditioning.
Lift more this week in something than you did last week. Try to repeat that the next week.
Let the chips fall where they may.
Happy Monday mother fuckers.